If you want to create a more customized double optin flow you can do this by using Symplify optin flow generator. By using this function Symplify will automatically create the pages and the different confirmation emails required for a double optin flow. These pages and emails will be created from a template and are editable.​
You can use the Symplify default template and customize this.
You can use your existing template.
How to set up an opt in flow
​First, make sure you have a project with the type "Mixed". You can create a new project or use an existing one. The settings, such as sender and reply address and tracking domain, will be used in your optin flow.
From the menu go to Account settings and select Opt-in pages. To create a new optin flow hit "New opt-in page". A setup wizard will open containing these steps:
Name your optin (and give it a description if needed).
Select project (the sender and reply address will be inherited from the project)
Choose your templates (you can use the Symplify default template or any of your different templates (please note above version requirements)).
Select language (currently supported optin language is English, but you can always edit the text in the editor.)
Select the database in Symplify where your new recipients will be saved.
Optional Final page link, which is the main link in the welcome email in the end of the flow.
Optional Reminder email – toggle to yes if you want to include a reminder email which will be sent 24 hours after the subscriber received the verification email but haven't verified.
Save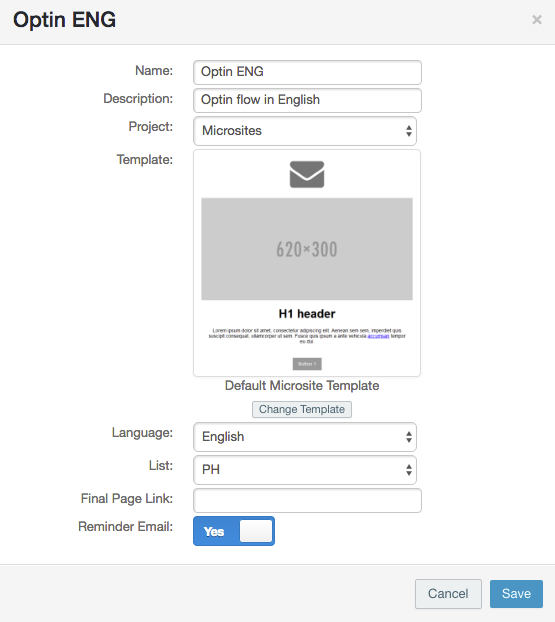 The different steps of your opt-in flow will be:
Signup form
Sign up "thank you" confirmation page
Email address verification email
(Optional Email address verification email reminder)
Confirmation thank you page
Welcome email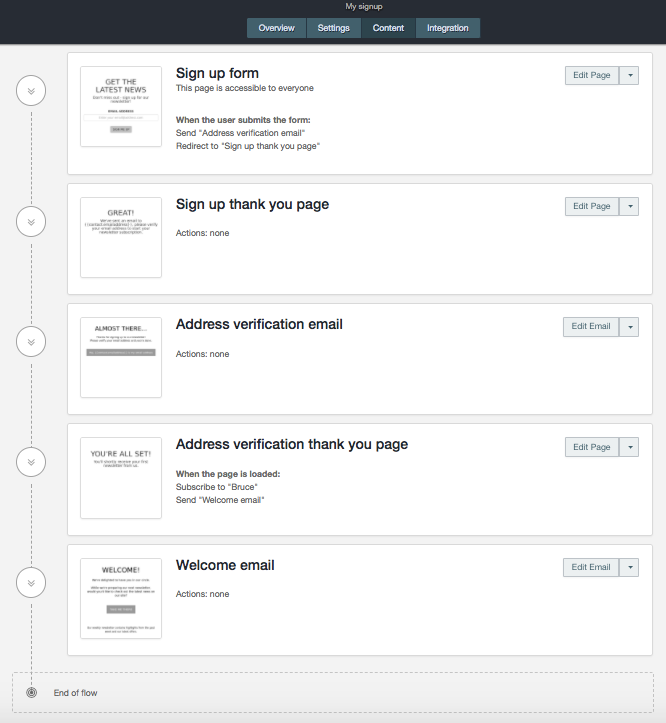 When clicking "edit page/email" the editor will open and here you can edit your page/email as much as the template allows you to.
Why not add your logo and add some fun information to your new subscribers.
​All set!
Now test your double optin flow by using the URL given in the top of the Pages tab and complete the signup and verify that you have been saved on the selected list.
​If you want to link to the form on your website you use the same URL (in the top of the Pages tab).